A few weeks ago I had the privilege of presenting to a group of business owners and marketing professionals at Greater Spokane Incorporated's Executive Connect Breakfast at The Spokane Club. Jim Swoboda from ILF Media was kind enough to film my 20-minute presentation about how businesses can take advantage of the huge increase in mobile traffic to their websites.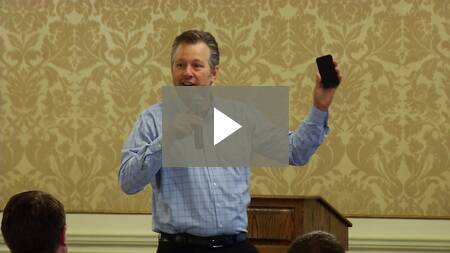 Measure Mobile

The biggest mistake we see is that (for the most part) businesses have no idea how much traffic is coming to their websites via mobile. And those that do, really don't know how mobile traffic is impacting their business. Here's a mobile dashboard you can add to your Google Analytics profile to get started.
Mobile Ecommerce Dashboard (click on the link to import)
Have a Mobile First Strategy (if it makes sense)
I've never heard a client mention a "mobile first" strategy. We typically hear how the website will be built and then there is a followup discussion about what needs to be removed / customized to fit for mobile. And for the most part, it's usually an afterthought. If your business is getting over 50% (the highest percentage in our sample was 63%) of its traffic from mobile devices, doesn't it make sense to prioritize mobile?
Think Like a Mobile User
We all know what it's like to try to find information on our phones. It can be pretty rugged. I'm still a bit surprised when I'm able to easily find what I'm looking for via mobile. Think about what your users need to find and where they'll be when they're searching. What is their level of urgency at that time? What would make their mobile experience less painful? What would happen if they had actually had a good (maybe even great) experience from their phone?
Keep Learning
We live in an ever-changing world. It's important for your business to stay updated and adapt to whatever comes next. While that can be difficult, there are organizations that help. I'd like to give a shout-out to Ryan Arnold and the entrepreneurial efforts of Greater Spokane Incorporated for expanding the number of technical presentations they've been providing at GSI, Share Space Spokane, and The Spokane Club.
I'd also like to mention that I'll be hosting a free LocalU Hangout focused on best practices and tracking solutions for mobile on June 19th at 8am PST. It's free to attend and we've got some amazing panelists lined up! Just click on the YouTube link to attend and ask questions of our mobile and analytics experts Aaron Weiche, Cindy Krum, Jeff Sauer, and Annie Cushing.
Our live hangout will be at 8am PST on Friday, June 19th at this URL: https://www.youtube.com/watch?v=3d6fI5_dvws. You can ask questions in advance by using the chat feature. You'll also be able to ask questions during the event.